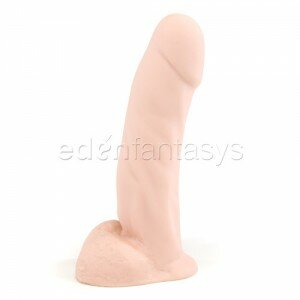 My first words upon taking Tantus' Hank out of it's package were, "He's beautiful!" And he is, but only if realistic dildos are your thing. If they're not, you can stop right here, because Hank is not for you. He's made from the Tantus silicone that I've fallen in love with, however, instead of the shiny finish that all of my other Tantus toys have, Hank has a matte finish.
After thinking, "He's beautiful!" my next thought about Hank was that he would be the perfect realistic harness dildo. At 6.5 inches in length, 5.5 of which is insertable, and 1.5 inches in diameter, Hank is pretty much the size of the average penis. He's not intimidating at all, and I imagine that having him on a harness, if you were looking for something realistic in look, color, and size, would be divine. However, I do not have a harness, so I could not test this theory out. Hank also has a flat base, so he should lay flat against your body, were you to wear him in a harness.
So, now that I've talked all about how perfect Hank would be in a harness, and then informed you that I did not, in fact, wear him in a harness, let me talk about how I *did* use Hank. Profligacy "drove" Hank. Normally I'm a size queen, especially in regards to girth. However, I really, really liked Hank. I was able to take him "balls deep" (pardon my french), and while he definitely hit my cervix, it wasn't uncomfortable, and his length was absolutely perfect. Profligacy said that the balls made an excellent handle, and he was able to keep a good grip on Hank while fucking me with him.
I'm sure you know the drill by now: non-porus, hypoallergenic, phthalate-free. If you don't plan on sharing Hank, antibacterial soap and water are fine for cleaning. If you're sharing partners or changing orifices, boil him, bleach him with a 10% solution, or throw him in the dishwasher. Water-based lube only with Hank, silicone lube and silicone toys don't play nice together. And his balls function as a flared base would, meaning that he's anal safe.
My Hank is "beige," which, to me, looks more like "cream" or "bone." I think, since he's realistic, and the other color option is "brown" (which, in the picture, looks more "beige"), it's supposed to be Caucasian-ish. It's a little light for that, if you ask me, but the shape and size is very realistic. I know many people are put off by realistic dildos; if that's the case, Hank's not for you. But if you're looking for something realistic, I can't recommend Hank enough.
If you want to see the cute video I made (and you know you do), go over to Eden Fantasys and check it out.

Realistic dildo by Tantus
Material: Silicone
Safety: