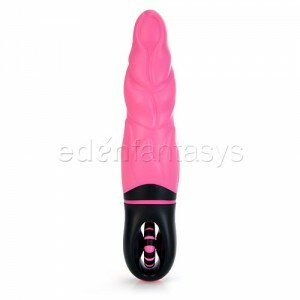 I was excited for the chance to review the Evolved High Roller. I've only ever had one straight vibe that I enjoyed, and I'm always interested in if I'll ever be able to find another one. Evolved makes some very nice products, and I own one of their vibes, but it came with a broken motor and I was too lazy to return it, so I can't accurately review it.
The High Roller comes in Evolved's standard, awesome packaging. It's a clear plastic tin with wording on it that allows you to see the toy through the packaging. It's a sturdy tin and buckles shut, and would be great for storing the vibe in. The High Roller is silicone, phthalate-free, multi-speed, and waterproof, and takes two AA batteries.
The High Roller has 5 inches of insertable length and is 1 5/8 inches in diameter. The shaft is hot pink and textured,and the cap is black. Now, the texture on this vibe is a little creepy to me. It looks like a faceless woman with hair, or wrapped in a blanket, or something like that. I'm not really a fan of toys that look like people or animals, so this was a little off-putting for me. The silicone itself is quite squishy, and the shaft is flexible. The tip itself is completely squishy, and the bottom of the shaft is harder, which is where the motor is located.
The two AA batteries are inserted into the cap, and the speeds are controlled via a wheel on the base. I really like the controls on this vibe. It's easier to roll than most multi-speed dials, yet it's hard to accidentally change speeds while the toy is in use. The wheel is almost "indented" into the cap, so you can't accidentally bump it. Usually, two AA batteries do not supply enough power to get me off, because I apparently have a clit of steel. This toy was no different. The vibrations just weren't enough to get me off when I used the toy clitorally. However, that's not to say that the toy isn't powerful; quite the opposite, in fact. The High Roller provides quite a bit of power, and the variation from the lowest to the highest speeds is drastic. It's also very quiet. Like, whisper quiet.
When inserted, the High Roller feels really good. It's fairly girthy, and provides a nice, filling sensation. It's also nicely texted, but not uncomfortably so, and the squishiness is nice. The vibrations are pretty muted when the toy is inserted, and I'm not one to come from internal vibrations, so I was unable to orgasm with the High Roller inserted.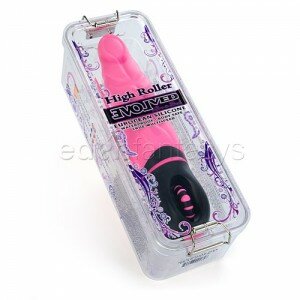 I was a little nervous about using the High Roller in water, because the battery cap is very easy to twist, and I was worried about it accidentally popping off. This is not a good thing, especially if the toy boasts it's waterproof-ness. Therefore, I did not take it in the shower with me, simply because I didn't want to risk ruining the toy. Kind of defeats the purpose of a toy being waterproof, no?
As for cleaning the toy, antibacterial soap and water, or wiping it down with a 10% bleach solution should do it. Remember to only use water-based lubes with your silicone toys, as well.
All in all, the High Roller is a very nice standard vibrator. For me, personally, I wish it provided more power, but for most people, it will probably be plenty strong. I also wish the texture looked less like a woman, and that I wasn't afraid to bring it into the shower with me. However, overall, this is a nice vibe that I'd recommend for people that enjoy straight vibes, and I could definitely see it being great for those people with roommates, or that live in a dorm. Just because I wasn't able to orgasm with it doesn't mean that you won't be able to!
Thank you, Eden Fantasys, for letting me review this toy!
Traditional vibrator by Evolved

Material: Silicone

Safety:

$0.00

Buy from EdenFantasys

This product was provided free of charge to the reviewer.